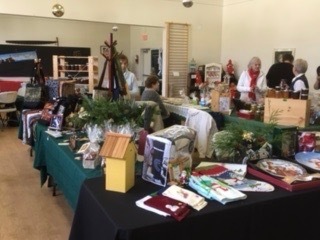 Well, all the work paid off. The Guild raised just over $900 last Friday--and the members were sure kept running. The kitchen crew were incredible as our guests went through soup and sandwiches at a blistering pace!
The wreaths and swags that Sandy had taught us to make were very popular, but the Bake table--! At 10 it was crammed with loaves and cranberry bliss, ginger cookies and tarts. By closing time at 2 I think there was a lone plate of tarts and a few cookies.
Our vendors all seemed to be happy with their sales, and judging from the comments of our guests, they were also delighted.
Sandy has some great ideas on how to use our money...watch this space!!